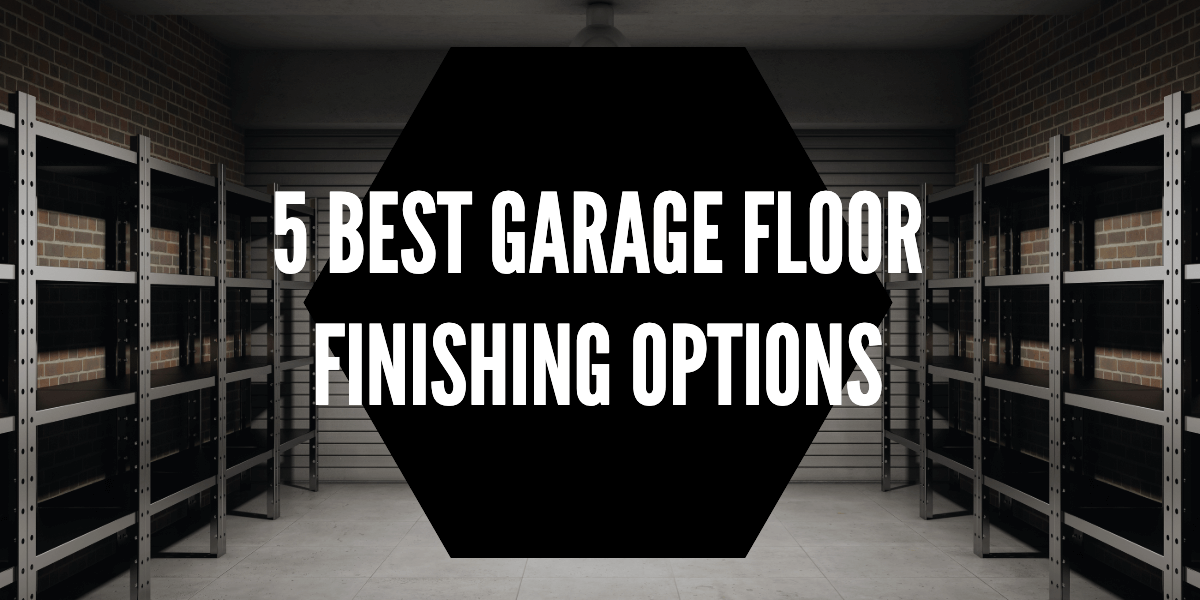 The garage is a part of the house that could easily be neglected. Garage floors are usually subjected to high pressure due to vehicle movements and chemical spills. The pressure on garage floors could cause cracks in the flooring and stains, giving the garage an undesired visual appeal. The only way to protect the floor of the garage while beautifying it is to make use of garage floor finishing.
Planning and selecting the best type of garage flooring options is as important as choosing flooring options for the main house. Sometimes, it is easy to overlook the state of your garage and ignore the fact that the garage needs a new look. The first step in selecting a finishing option is to identify what is wrong with the garage floor and explore your preferences.  Generally, there are two options to choose from, and they include garage floor coverings and garage floor coatings.
Garage Floor Coatings and Coverings
When deciding garage flooring options, resilience and durability are the key consideration. The garage floor will require a thorough process such as floor preparation, selection of the appropriate covering or coating and its application.
---
---
Other key things to consider are budget and the type of look you want your garage floor to have. If the garage concrete is in excellent condition, you can pick any of the two options. In cases where the garage concrete floor is not in the best shape, the first thing to decide is if you want to fix the concrete floor before applying a finishing or you want to cover the damages. Choosing to cover the damages with a garage floor covering like mats and carpets are temporary ways of making a garage floor look good. This will give you the effect you desire and also protect your concrete slab from further damage.
For a more permanent solution, garage floor coatings are better. If you decide to go for a durable surface, it is essential to select the best garage floor coating. The significant differences between garage floor coverings and coatings are further explained below. Also, the various examples under each type are listed with the pros and cons to help in your decision-making.
A garage floor covering involves the use of rollout mats, interlocking flexible or plastic tiles and sometimes carpets.  Coverings are applied directly to the garage concrete, and they are immune to moisture. The various garage floor coverings have advantages in common which include a fast and easy application. Also, floor preparation is not time-consuming, and it helps to hide stains and cracks.
However, coverings are much more expensive when compared to coatings. Garage floor coverings do not require any special expertise asides from the interlocking tiles. This means that you can apply them on your own when it is convenient for you.
Garage floor coatings include floor paints, epoxy paint and sealers. They are permanent methods of floor finishing options compared to the coverings, and they adhere to the concrete floor. Garage floor coatings will cost you less money if you do it yourself. Although, it can fail if there is incomplete floor preparation like cracks or damp concrete.
A wet concrete means that the concrete floor is absorbing moisture and this can affect the adherence to your garage floor covering. This could shorten the life-span as it would not adhere before eventually flaking off. Therefore, it is essential to test the concrete floor for moisture before application.
Epoxy paint is the best garage floor coating to use, and preparation ranges from an assessment of the garage floor to cleaning and repair if needed before finally applying the coat.
Coatings and Coverings to Consider for your Garage Finishing
1. Concrete Floor Paint

Photo by BURO 341 from Pexels
A floor paint is a type of garage floor coating, and it requires a relatively simple process. Unlike the paint used on walls, floor paint is stronger and more resilient. There are no tricks to its application, and it involves the direct coating of the floor with paint. You can do this coating if you know how to use your rollers and brushes.
In cases when you are not sure of the type of garage floor coating to go for, concrete floor paint is an excellent finishing that will also give you the desired effect. However, it is essential to take care of the garage floor, and a recoating would be needed over time. Floor paints have different types which are; the latex based floor paint and oil-based floor paint. Latex floor paint is easier to apply compared to oil based paint. However, the oil-based paint is much more durable and lasts longer because it adheres better to the concrete in the garage floor.
2. Epoxy Paint

Image source
The best garage floor coating you can consider is epoxy paint. With proper floor preparation and a good product, it is the hardest and resilient garage floor you can get. Epoxy paint is stain resistant and hot tire resistant. The use of epoxy paint can be technical as it dries up and hardens quickly.
Application of epoxy paint requires a professional as it is different from the ordinary floor paint. Therefore, it is essential to coat the garage concrete as fast as possible. Also, the flooring is left to dry permanently before use, and this can take about 6-7 days. Applying weight to the epoxy paint before drying up could distort the floor and affect the outcome. Another layer of epoxy paint can be added to make the floor more resilient. Your floor should be recoated every 4-5 years depending on the level of usage.
3. Concrete Sealers
Concrete sealer is a type of garage floor coating that can be used on its own or to complement an epoxy paint. If you don't do anything to your garage floor, concrete sealer is the least you can apply. They protect the chemical spill from damaging the garage flooring. They are similar to floor paints, but they are stronger. Sealers are not expensive, and they are your go-to options when you are on a budget but still want a nice garage. Sealers give your garage floor a glossy and glassy look after coating. The concrete could be acrylic or urethane in nature.
Urethane sealer is stronger than acrylic but does not adhere to the garage concrete as much as the acrylic sealer. It resists chemicals effectively which is a significant reason why you could use it as a top coat. However, urethane sealer is more expensive, and it is a solvent-based garage floor coat. The application requires a respirator.
Acrylic sealers stick better to the garage concrete floor because it is an oil-based coat. It is not as strong as urethane sealer but cheaper to get. It is a good garage floor coat but requires annual recoating to maintain.
4. Interlocking Tiles

Interlocking tiles are a type of garage floor covering, and they come in various designs and shapes. These designs help to beautify the garage while also protecting the garage floor. Interlocking tiles are a floor covering to consider because they are highly flexible. Tiles can be customised or personalised based on preferences. The different patterns and colours add to the aesthetic nature of the garage.
They offer excellent resistance to moisture compared to rollout mats. When considering the use of interlocking tiles as a garage floor covering, keep in mind that they expand during extreme heat. Therefore, it is important to leave space for expansion. Interlocking tiles could be done at reasonable prices, and they require less maintenance. Another added advantage is that installation of the tiles takes 3-4 hours per 600sq ft.
5. Rollout Mats
The main garage floor covering to check out is the rollout mat. You can get it in different patterns, colours and length and it could also be personalised like the interlocking tiles. Rollout mats can be as long as 60 feet and as wide as 10 feet. This provides enough coverage for a car space. You could decide to use one colour and design for the whole garage or use a different rollout mat for each car space. Different rollout mats in one garage space is a way to spice things up especially when you are tired of old looks.  Floor preparation is minimal compared to all other garage floor coverings, and it requires vacuuming and cleaning.
The application of a rollout mat is something you can do; a professional is not needed and helps to save cost. Next step is to lay the mat on the concrete floor with edges aligned and you are good to go. A significant disadvantage of rollout mat as a floor covering is that it is subject to stain. They are durable when maintained well and managed with care.
Conclusion
You are now aware of the various garage floor finishing options to select. The best garage floor finishing depends on how much you plan to invest and the use for your garage. If you plan to use your garage for other purposes, the garage floor can be insulated to provide heat. It is, however, essential to maintain the garage floor well. Minimising spillage and abrasion would help to increase the lifespan of whichever garage floor covering you select.