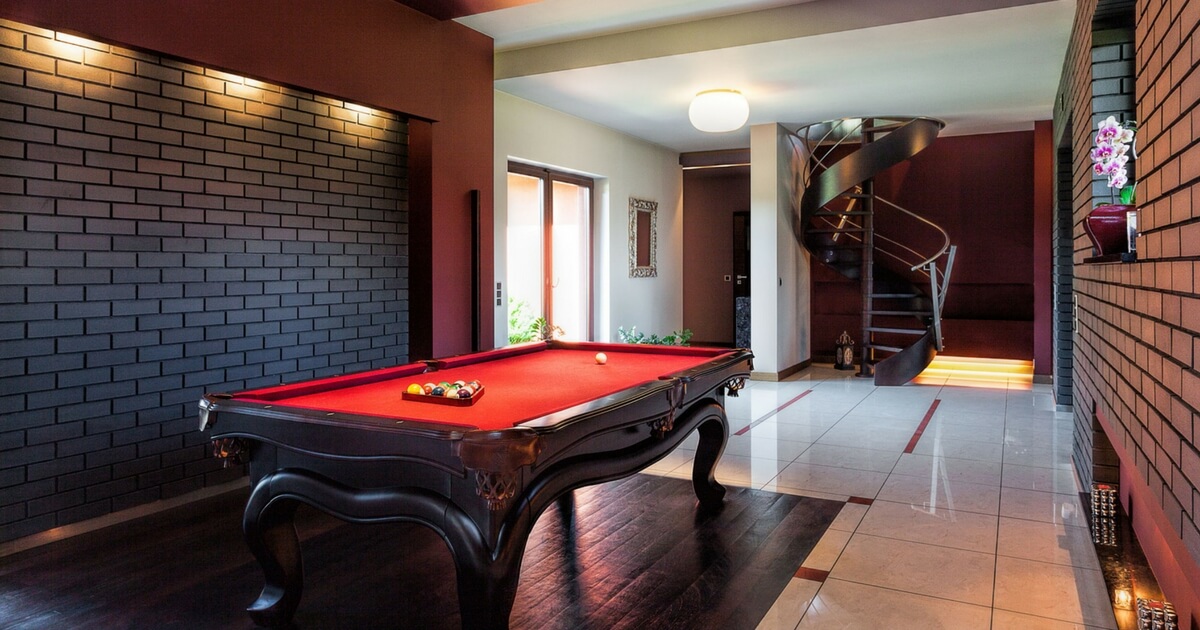 One of the most popular ideas is turning your garage into a garage games room.
A garage doesn't have to be a boring place to store your family car.
There are loads of things you can do to make your garage a more fun and functional space.
We've all been in that situation where we've asked ourselves; "can I turn my garage into a game room?"
Well, the answer is yes.
There are so many cool and exciting ways you can do this, and here are 10 garage game room ideas to whet your appetite:
YOUR OWN GARAGE POOL BAR
Transform your garage by setting up a pool table inside it, along with a nice bar too.
This enables you to play pool with your friends, and enjoy a drink or two while you do it.
Of course, make sure you have non-alcoholic options handy for your children to enjoy too!
GARAGE TABLE TENNIS
A table tennis table is a perfect addition to any garage space.
If you've got enough room, you can set the table up and have little tournaments between your family and friends.
It makes for some of the most exciting and competitive action you'll ever experience.
Not to mention you can always flip one side of the table up to act as a wall to practice against when you're home alone.
MINI BOWLING ALLEY
One of my favourite ideas is taking a big old garage space and converting it into a mini bowling alley.
You can build one bowling lane down the centre of your garage – making it as long or short as you like.
Get your hands on some pins and a ball or two, and you can go bowling without leaving the house.
An elaborate idea?
Yes.
But, one that's well worth it when you see how fun it can be.
A RETRO GARAGE ARCADE
Do you remember heading down to your local arcade as a child?
You could spend hours playing PacMan and Space Invaders on one of those old-school arcade machines.
Well, why don't you take those memories and give them a new lease of life inside your garage?
You can actually buy arcade machines – or ones that mimic the classic games, and stick them in your garage.
Slowly but surely you will add to your collection and create a retro arcade to enjoy in your spare time.
A VIDEO GAMERS PARADISE
Why don't you go down the modern gaming route and create a safe haven to play your video games?
Soundproof the walls, so people don't hear you cry out in rage, and get some comfy gaming chairs along with a console or two.
Make sure you get your hands on a massive TV with some speakers too, so you create the ultimate gaming experience in your garage.
FOOSBALL TABLE
A foosball table is a perfect addition to any garage games room.
They're not too big, not overly expensive, and a load of fun.
It's the ultimate game to provide guests with entertainment when they come around.
Everyone can take it in turns to play, and you can host mini tournaments with forfeits for the losers and prizes for the winners!
INDOOR GOLF
Bet you didn't think about turning your garage into an indoor golf course?
Well, it's somewhat possible with a few cool ideas.
Get yourself a golf simulator, and you can simulate playing an entire golf course from the comfort of your home.
Or, on a smaller scale, just buy some indoor golfing equipment so you can practice your putting skills.
MORE ARCADE GAMES
If the first set of arcade games didn't tickle your fancy, then why don't you try a different style of games.
Get yourself a Skeeball machine, or those basketball machines that you often see in modern arcades.
If you want, you could even add in one of those funky dance machines too!
A great idea if you have lots of space and young children.
GARAGE AIR HOCKEY
Air hockey is one of the most enjoyable games for everyone to play.
There's a fairly low skill level, and it's so addictive once you start playing.
The tables are easy to buy and set up too, with someone of you possibly having enough space to fit two in side by side.
DARTS, BLACK JACK AND POKER
If you're keen to create a more sophisticated and adult-oriented games room, then this is the perfect idea for you.
Get a darts board or two and pin them up on your garage wall.
Then, bring in a large poker table so you and your friends can spend hours battling against one another.
WHICH ONE OF THESE IS YOUR FAVOURITE
If your garage is big enough, you may be able to combine a couple of the ideas to create the ultimate games room!
Regardless, there are plenty of choices here, and they all turn your garage into something more fun for everyone.