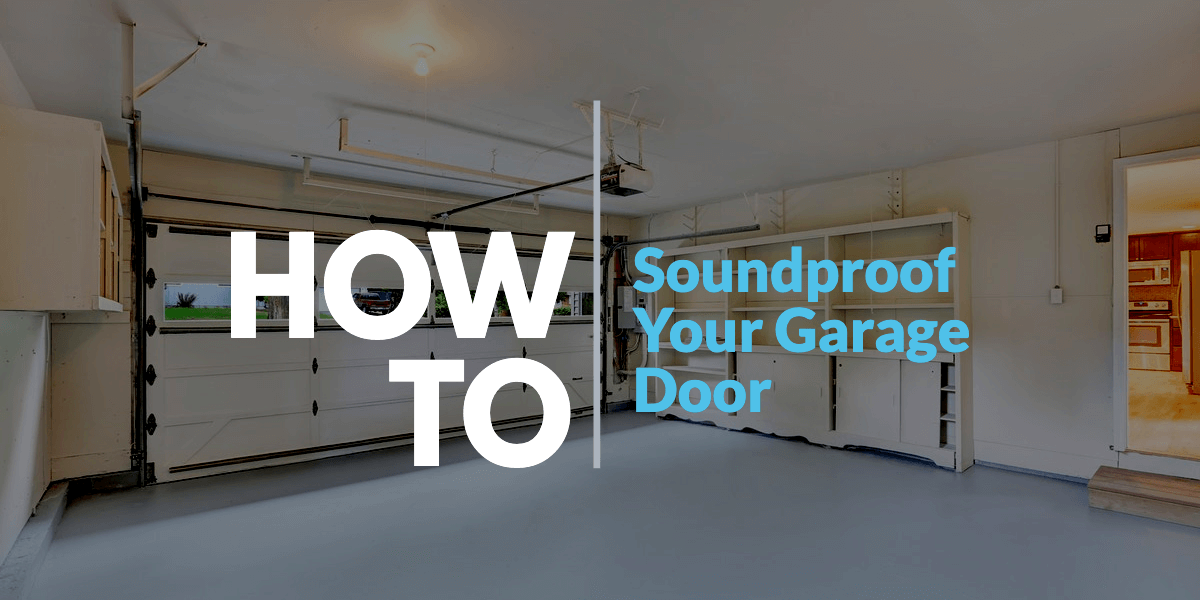 ---
Soundproofing a garage door is an easy and quick way for making it an ideal place for your hobby. Whatever you have chosen to do or use your garage for, whether it is a mini gym, a home disco with your friends or a music hub, quality soundproofing is essential. While soundproofing a garage door may seem like a daunting task, having the right tips on how to will make your work simpler. Often, soundproofing a roll-up garage door can be difficult. A regular garage door, on the other hand, is easy to insulate. This piece takes a look at some of the best ways to efficiently soundproof your garage door.
1. Cover all gaps around the door
It is imperative that you cover all the gaps around your garage door regardless of the type, design and size of the door. Use a good weather-stripping tape on the gaps. This plays a significant role in preventing the free passage of noise through the gaps. For the best results, use a tape that is specifically designed for garage doors.
2. Use a soundproofing material to insulate the door
Today, there are tons of soundproof garage materials you can use to insulate your garage door. They have fantastic noise blocking capabilities that make them incredibly reliable when it comes to soundproofing. Some of the most reliable materials to consider include;
Fibreglass panels
Fibreglass or mass loaded vinyl panels are some of the most reliable panels you can use on your garage doors. To fix the panels efficiently on the door, consider using spray adhesives, nails, and screws. Most importantly, cut the panels to fit the size of the door.
You may also use additional layers of mass loaded vinyl to enhance sound absorption. This is a great way to ensure sound is absorbed regardless of the frequencies. What's more, it makes it an ideal soundproofing material that absorbs noise at different levels.
A point to note that is that fibreglass panels can also be installed using hanging strips. These are a better option compared to using spray adhesives since it blocks all types of sounds as well as their frequencies.
Noise blocking curtains are thick materials that reduce any sound coming out of a garage door. You will need to hang the curtains on the door while ensuring they cover the length of your garage door.
You can also install soundproofing foam panels on your door. Use command strips or fibreglass panels for your installation. They are ideal in enhancing acoustics in your room and also block excessive noise. However, this is not ideal for band practice owing to the level of noise that bands produce.
Moving blankets
Moving blankets also soundproof garage door and it is usually a cheaper option. It works best on mid-level and high-level frequencies. It prevents any noise from escaping through your garage door. For the best results, install the blankets directly on the door or hang them. More than one layer of the blanket can be used for extra soundproofing.

3. Buy an insulated style garage door
Soundproofing garage for drums can be a costly task. While many older garage doors are not insulated, you will need an insulated option to make your garage ideal for drums or band. Insulated garage doors not only reduces the escape of noise from the garage, but it also provides an ideal environment for your music training, play and even work.
Often, insulated garage doors offer sound and thermal insulation. They are thicker than ordinary and standard garage doors. For this reason, they provide enhanced sound insulation. However, it is wise that you understand how to soundproof a garage door based on its size and the quality of your garage door. It helps you to set aside a reasonable budget for your soundproofing.
---
Need Garage Doors in Essex? Contact us today.
---
4. Hang fibreglass on roll-up garage doors
Even though roll-up garage doors cannot be soundproofed using thick materials, you can still use moving blankets, fibreglass or sound/noise blocking curtains in front of the garage door. Hang either of the materials on the door. They are an efficient and ideal method that significantly reduces noise. As mentioned earlier, fibreglass is one of the most reliable materials you can use as it blocks sounds with different frequencies.
Keep in mind that thick noise blocking curtains and moving blankets are excellent in airborne soundproofing noise in your garage door.
5. Soundproof your garage walls
When soundproofing your garage door, you need to focus on your garage walls as well. These are usually some of the weakest points in a garage noise. Often, surrounding walls need extra soundproofing because they are thin. This means you will need Mass Loaded Vinyl because it offers an extra layer of soundproofing to your wall.
Mass Loaded Vinyl can also be directly installed to the surface of your garage walls or even on the joist for better results. They enhance wall insulation, and in return, it soundproofs your garage door.
Therefore, when looking at how to soundproof a garage cheap or what to put on garage walls, you can use MLV or the more inexpensive moving blankets. They deliver quality results, and they are similar to acoustic blanket materials. Naturally, the materials are cheap garage wall insulation and help you to soundproof your garage door while cutting down the cost of such a project.
6. Reduce echo in the garage
Reducing echo in the garage also helps you to soundproof your door. It enhances acoustics in the room as well as sound intensity. Therefore, choose the best foam panels to be used on the walls, and for the other parts of the garage, use soft materials to soundproof it. This gives you the same sound quality and prevents the escape of sounds through your garage door.
Apart from acoustic foam panels, you can cover the door and the entire garage with thick carpets, moving blankets and rubber mats. They make a significant difference and significantly gets rid of the sound echo.

7. Soundproof your windows
Soundproofing your windows is important in insulating your garage door. This is not only an efficient but also an effective and easy task to accomplish. Based on the type and size of your garage door, you can use different materials to soundproof your window. This includes the use of;
Window plugs.
Noise blocking curtains.
Installing quality and extra acrylic window pane.
Sealing all gaps between the frame and the window pane using weather-strips.
8. Take care of air vents
When soundproofing your garage door, you should not forget about your air vents. They allow movement of fresh air in the room, but this is usually followed by noise. Therefore, even though you may soundproof the entire garage and leave out the vents, you will not achieve your goals.
Therefore, you can choose to get rid of an air vent in the garage and seal the hole that's left or to design a sound maze in the air vent. With the first option, you will need to invest in an air conditioner because without an air vent, the garage will be humid and hot. However, with a sound maze, there will be a flow of fresh air through the maze, but the amount of sound that comes out is very low.
9. How to insulate a brick garage to soundproof your garage door
To efficiently insulate a brick garage, you can employ different strategies including;
External wall insulation
You need to add an extra external wall, especially if your garage is detached. It adds extra thickness to the wall, therefore, insulating it while ensuring the room remains warm. One benefit that comes with this type of insulation is that it maximises on garage space.
Internal wall insulation
This is a common approach that involves adding soundproof inside the garage. The easiest and cheapest way to achieve the best results is by using insulated plasterboard that comes with timber battens that will be horizontally positioned at the garage ceiling, door and floor level. This approach offers the best insulation and vapour control thanks to the quality of plasterboard in soundproofing.
Build a wall between the house and the garage
You can also build a wall between your garage and the house. This should be a heated space that leads to no heat loss.
Doors and windows
When insulating a brick garage, do not forget the windows and doors. Use timber battens around window and door openings.
10. A room within a room for soundproofing your garage door
You can also build a room within the garage to soundproof your garage door. This can be achieved by;
Hanging drywall on the garage's inside perimeter.
Adding a thick layer of fibreglass insulation to ensure it is exposed.
Framing an extra wall to fit over your existing garage door.
Finish with a third frame on the wall and include a layer of drywall.
Remember, framing your walls can be conveniently done using wood pallets. These are readily available in different warehouses. Ensure to purchase enough pallets that will help you to soundproof your garage and the door as desired.
By implementing these tips, you can soundproof your garage door and use the garage for what you love most without disturbing those around you. You can get the best garage doors products and installation services at Rollaway Garage Door; your trusted expert in Essex.