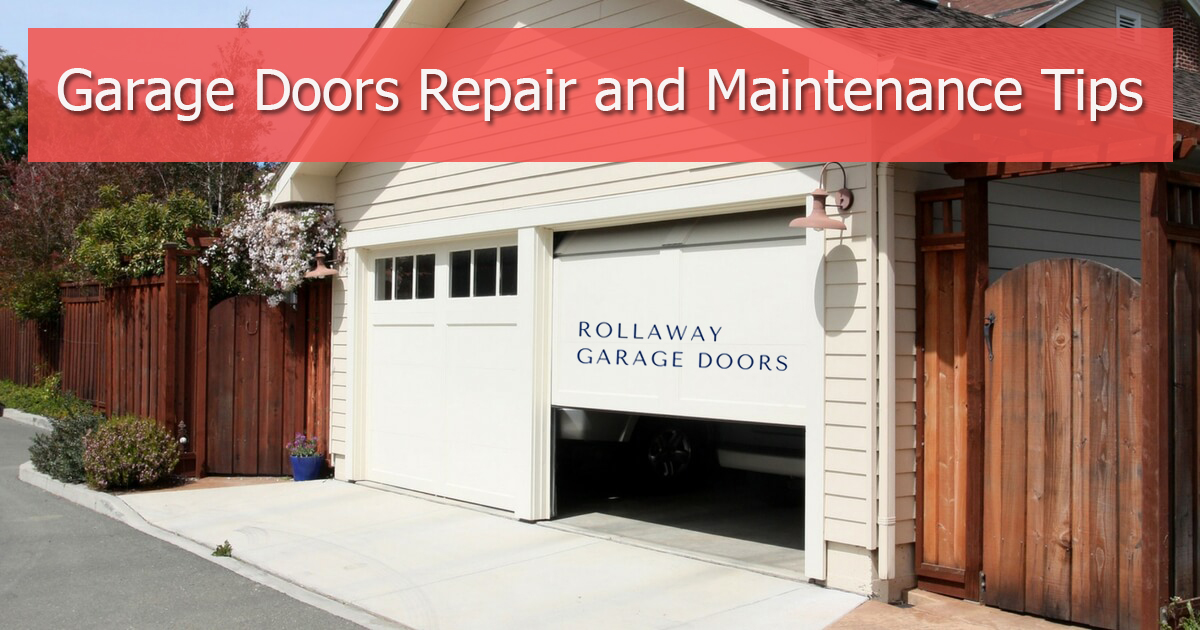 Your garage doors are probably one of the most used things in your entire house. This door continues to move up and down over a thousand times in a year. When we keep the garage doors in good condition, they continuously provide convenience and security. If you want your garage doors to perform well then you can do the annual inspection and general maintenance yourself. To keep your roller garage doors working smoothly for a long time, you can regularly perform/execute preventive care and maintenance for it.
Generally, people don't do garage doors maintenance on a regular basis. But if you want to tune-up your roller garage door, then some basic step can be done by you. Or you can hire professionals who repair garage doors.
Tips for Garage Door Maintenance 
Here are some regular maintenance tips for your garage doors. By following them, you can get long-lasting garage doors.
Protect the Garage Doors from Damage
Check the door on both sides if any noise is coming and observe properly if there is any damage. You will find most of the damage near the bottom track. So, check the entire track as the damage can occur anywhere.
Check if there are any dents and bends on the track. If yes, they could cause larger damage. Maybe some of the damaged parts are not visible but they could be damaged. If you roll your finger on the entire track then you can feel those damages. This is the indicator that there is unwanted friction in the garage door track.
Adjust the Door's Level and Alignment
Garage doors should be in proper level or alignment. But if not, then garage doors cannot open correctly or the door comes out of the track. So, when you adjust the door alignment with the track, make sure the roller works properly. You can adjust the track so that it aligns with the weather stripping.
Garage Doors Require Deep Cleaning
You have to clean all cobwebs and debris from the garage doors. You can use a paintbrush to remove all dirt and dust. You can use an old piece of cloth or a vacuum cleaner for the garage's windows and entry door for deep cleaning. Deep cleaning may be harder and time-consuming job, but once it is completed, your garage door looks neat and clean. Also, that gives a long life to your garage doors. You can do this once every few weeks to keep your garage door clean for as long as possible.
Tighten Nuts, Bolts and Fasteners
Screws, nuts, bolts and fasteners have a natural propensity to become loose and come out from the screw holes. If you see a screw is getting loose or coming out, make sure you tighten it. However, if you are going to tighten a screw then you need to carefully evaluate the door and the screw. You can ensure your garage door gets a long life with a professional maintenance service.
Tips for Repairing Your Garage Doors
Garage doors have a variety of safety features and closing options. Garage doors that have a moving and rolling up action need regular maintenance and repairing service with time. If you are experiencing any problem with the safety features, follow these steps. But if you are facing some major problem, then call a professional repairman.
Firstly, you have to check the mounting brackets, which hold the tracks to the wall. If you feel the brackets are loose, then tighten the nut, bolt and screw. Whenever you do garage doors installation, make sure that you work inside the garage and the door should be closed. Inspect for dents, crimps or flat spots. If you see any worse damage, then replace them.
Check the Detached Hardware
You must check for detached doors. Also, examine the plate where the spring is mounted and make sure the screw should be tight. If you find the screw is loose then tighten it. Sometimes, the screw hole is enlarged. If so, then replace with new screws of the same diameter. You can even use hollow fibre plugs dipped in carpenter's glue with the new screw during the garage door repairs.
Many times, older electric garage doors (automatic opener) do not work properly or they can also become outdated. This can lead to a weakness in your garage doors. Also, would be burglars find it easier to crack older automatic systems. This can create a serious security risk. Average door openers have 10 to 15 years of lifespan, but some might last longer or some only for a short amount of time. Either way, regular maintenance can help increase the lifespan of your garage doors.