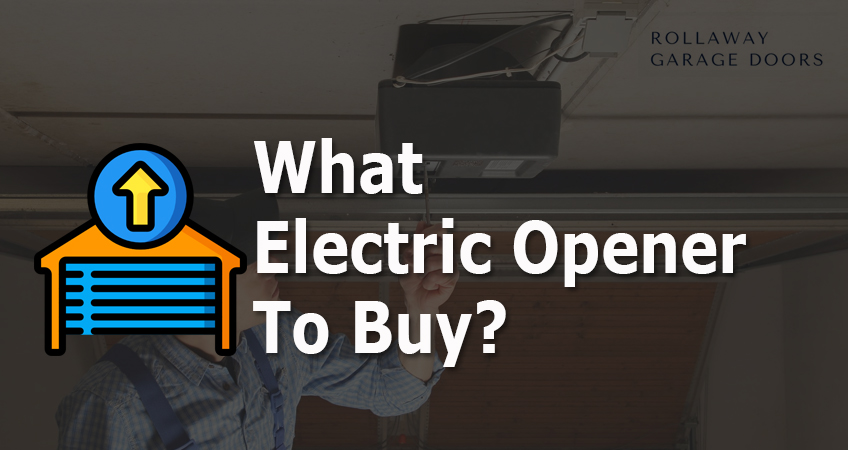 Electric garage door openers are the rave of the century. More and more people are finding electric openers an absolute necessity. They offer not only an improved rate of efficiency, but they also run with a level of fluidity and modernism that the outdated manual garage doors do not have.
There are hundreds, if not thousands, of electric openers in the market right now and though some may look modern, they aren't exactly great. Besides, all of these products work differently, and their efficiency depends on how they are made and what makes them tick. It is important, therefore, to have a much-needed range of knowledge about electric openers and what electric openers to buy when one decides to buy. This article is written exactly for that purpose and by the time you get to the end of this article, you'll have gathered enough information and knowledge required to survive in the electric opener sector.
Why You Should Install A Garage Door?
Although the purpose of this article is to provide the necessary information regarding what electric opener to buy, it is also very important to know a little about garage doors beforehand. To that effect, here are some reasons why you should consider before buying a garage door for your homes.
1. Its Efficiency Is Unparalleled
Electric openers are the best and most effective choices for garage doors in the market today. If properly installed, a good electric opener will perform efficiently and flawlessly for a long time doing work that you don't have to. Some models of garage openers are not only very efficient, but they are also quiet and make for a wonderful addition to a simple home or household.
However, it is pertinent to note that the efficiency of such openers relies on proper use and attention. Misuse of the product will not only void your warranty and shorten your product life, but it may also make for a piece of disappointing and uncomfortable equipment.
2. It Offers Added Security For Your Vehicles
An important feature of an electric opener is the security it offers. Unlike most older outdated manually operated garage doors, the electric opener does its work for you and for most products, is actually hands-free. It works automatically, and it offers a more secure option for your vehicles than manually accessible ones. In fact, some models of electric garage doors have built-in alarm and security systems increasing protection on your vehicles. Your vehicles are mostly in great 'hands' and what more? You don't have to do a lot of work.
3. They Last For A Very Long Time
Yes. You saw that right. You're reading that right. If properly used, a well-installed electric garage opener will last for as long as 20 to 25 years. A quarter of a hundred years is a lot of years to use an electric opener for if you ask me. Some more expensive models of electric openers may very well even last longer and with the correct repair and maintenance will continue to go on while still working efficiently for another lengthy period.
4. They Also Have Aesthetic Value
In addition to its electric technology, electric openers can and do offer a more modern outlook to a home. For people into a home sale, installing a modern electric opener can increase the aesthetic value of the home, thereby directly increasing the monetary value of the home. Several designs are available in the market today with materials being used ranging from wood to steel and even, in special places, aluminium. These materials can be moulded into different shapes and designs, giving your homes not only a modern look but a very beautiful modernized look as well.
---
---
Of course, these are only a few of the reasons why electric garage openers are a great idea. There are thousands of reasons why you should purchase one, and while they also have a few flaws themselves, in totality, they would be a wonderful addition to any home or building.
For anyone who decides to venture into the business of electric openers or is curious about which electric openers to buy, it is important to note there are many factors to consider before buying one. Such factors include garage doors available, main use, and what to do to avoid complications. These will be discussed much further into the article. Now, concerning the issue of what electric openers to buy, there are different types of openers available in the market.
What Are The Different Types Of Electric Openers?
Although each one serves different needs and purposes, most electric garage door openers do many of the same things, and it can be quite confusing when it comes to time to choose. In the next few paragraphs, we try to break down the basics of each type and help you to find one that suits your home and building needs.
They include:
Screw-Driven Electric Garage Door Opener
Jackshaft Electric Garage Door Opener
Chain Drive Electric Garage Door Opener
Belt-Driven Electric Garage Door Opener
The Screw-Driven Electric Opener
Admittedly, this type of opener usually operates a little bit noisier than other types, but its efficiency is also unparalleled. It works by the use of a screw attached to a steel rod that aids the up and down movement of the door trolley. It works a little bit noisier, but it works well as long as sufficient lubrication and oiling are regularly used. It is controlled by a steel rod also means that there is a larger chance of friction – unless of course the right lubrication is used for it.
---
---
For homes who have their garage doors directly facing residential rooms, this is a fairly good choice as the movement of the steel rod is fluid. There are not many machine parts to it, which also means considerably less noise than in the Belt-driven type. It is also a good idea for commercial buildings (that is, buildings that have a lot of traffic in and out of them) as this type of opener requires constant use and attention.
The Belt-Driven Electric Opener
This, clearly as the name implies, makes use of a rubber belt that slides every time the trolley is moved. It only moves, however, if the closed option is deactivated. The belt moves fluidly and retracts quickly when prompted. This option is a little bit more costly to purchase and install as it involves very many different mechanisms, and it is quite difficult to navigate.
One very good benefit of this type of opener is that it is quiet and makes little or no noise because the steel parts involved are very little compared to other types of openers. It is, therefore, a good choice for residential areas and areas that require at least a certain degree of quietness. However, because of its technicality, only professionals in the field should be given the task of installing this opener.
The Chain Drive Electric Opener
This type of opener makes use of a chain as opposed to the belt driven opener. The chain supports the steel that moves the trolley vertically each time it opens. This type of opener is very common. In fact, it is the most common type of opener among homeowners in the market today. Why it is so is not far-fetched. It is the cheapest alternative available in the market. It also offers efficiency for its cost.
For residential areas that aren't too quiet, this is a very useful addition. It can be great equipment for commercial buildings too. It is important to note that this type of opener can be easily faked as there are many inferior types in the market. Only well-equipped professional should see to the installation of this type of opener.
Jackshaft Electric Opener
The Jackshaft makes use of a pulley-like shaft to elevate and lower the trolley. This type of opener works very well for buildings that house offices and business centres. For residential areas, however, your garage has to have a higher ceiling because the jackshaft makes use of a pulley shaft that is placed much higher in the building than homeowners' garage spaces.
The Jackshaft makes quite a lot of noise, and while being expensive, it offers a lot of fluidity as well as efficiency. Because it is usually mounted on either side of a wall, it requires a lot of patience and professional services to be procured for the installation. It should never be done by someone with little or no knowledge in the field.
In Conclusion
Purchasing an electric garage door opener is an excellent idea for all homeowners. Purchasing one, however, must be undertaken with patience and with the appropriate knowledge. There are many types of electric garage available in the market with different capabilities, too, of course. This is why one must have the appropriate knowledge required to know which one to purchase. This has been the aim of this article – to provide the necessary information regarding electric openers for garages. We hope you have decided on which type of opener to purchase. If you are still in doubt, however, you can always pick up the phone and contact Rollaway Garage Doors to help you out with the selection and installation of a suitable electric garage door opener.
---