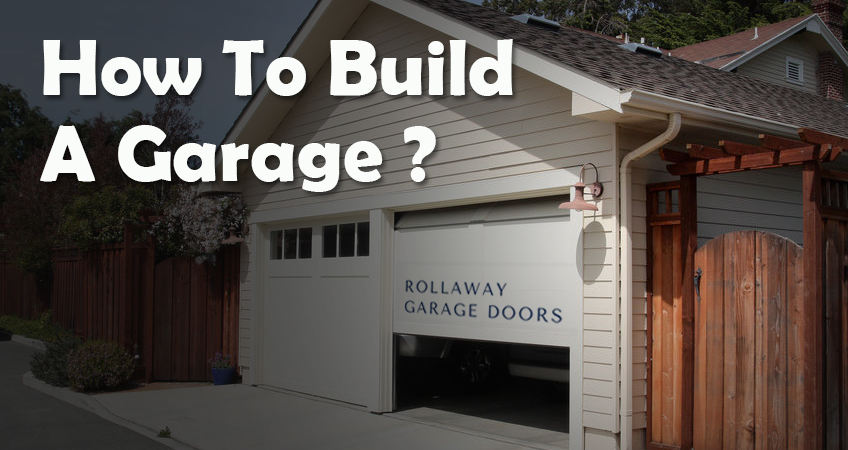 There are many reasons to consider building a garage. It provides additional storage space, shelter from rough weather, convenience, and increased personal safety for your car. Also, regardless of the type you choose to build, any garage will increase the value of your house. This increased value will add to your equity and boost your return on investment when you choose to sell the property. Moreover, garages are not only used to house cars these days. More residents in the UK are transforming their existing garages into workrooms, extra living spaces, and spare bedrooms.
Things to Consider Before You Begin
Regardless of why you want to build a garage, there are some things you ought to consider before you begin the project. They include:
Planning Permission

Before you pick out a garage plan, you need to know whether or not you need planning permission. Generally, outbuildings, garages inclusive, are considered to be permitted development and do not require planning permission. However, this is subject to some conditions and limits. An example of such conditions is that the garage must be a single storey with a maximum eave height of 2.5 metres. Also, its overall height must not exceed 4 metres. It is better to double-check with a local building control officer before work starts to prevent complications from arising later on. He or she will also tell you about the restrictions of your local zoning laws.

The Purpose Of Building The Garage


As we earlier mentioned, garages can be used for several purposes asides housing cars. They can be used as extra storage spaces, bedrooms, or workrooms. For you to select the best design and feature for your garage, you ought to clearly define its purpose.

Where To Place The Garage


There are different places you could place your garage. It depends on what you want, how much space you have, and the purpose of the garage. You could place it in front of the house, facing the street. You could also put it beside the house to have it look like another room. The choice is up to you.

Ventilation


It may not be something you would think to take into consideration before building your garage. However, planning for good ventilation when building a garage is essential. Having proper ventilation keeps the atmosphere of your garage clean and gets rid of harmful gases your car may release. An example of such toxic gases is carbon monoxide.

Hiring A Professional


It might seem more cost-effective and dare we say, fun to build a garage yourself. However, building a garage is just like building a house, except that it is smaller. It would be better if you hired an independent contractor to help with the structural work. Not only would this save time, but it would also ensure that your garage is well-built and complies with local zoning laws. A way to reduce cost is to take up the job of finishing the garage on your own.
How Much Does It Cost To Build A Garage?
Many people often underestimate how much it costs to build a garage. It is essential to establish that a garage is not a temporary structure or a shed. It is like a house, except that it is smaller. The most accurate way of describing a garage would be to compare it to a single storey. There are several things to put into consideration when estimating the cost to build a garage.
---
---
For a basic garage, you should budget a minimum of £18,000. This budget would accommodate a brick-built garage of about 36m2. This is to say that the dimensions of this kind of garage would be 6m in width, 6m in depth and 2.5m in height. Adding extra fittings and utilities, such as plumbing, would increase the total cost to nothing less than £25,000.
Types of Garage Doors
The larger the size of your garage, the more the costs incurred. The materials used in construction would also affect how much it would cost to build the garage.  Also, the size and style of your garage door can affect costs. Therefore, you should install a door that suits your needs and budget. The different types of garage doors include:
Canopy Up And Over Garage Doors: It is the most popular and traditional style of garage doors. It is usually manual. It opens upwards and outwards, pushing up into a canopy.
Sectional Garage Doors: The door is sectioned into horizontal panels that are on a set of curved tracks. It is opened using a remote control and opens up higher than other types of garage doors.
Side-Hinged Garage Doors: They are simple doors that open in the middle. They never go into the garage. They are best suited to large garages because of how they open.
Retractable Up And Over Door: It is similar to the canopy up and over doors. However, it is not manual. Instead, it is opened using a remote control. The door slides into the garage on horizontal runners.
Around The Corner Doors: They are similar to the side-hinged doors, in that they also open up in the middle. The difference is that they roll into the sides of the garage.
Should I Go For An Attached Or Detached Garage?
Both types of garages have their advantages and disadvantages. As the name suggests, attached garages are part of the house and are typically connected to it by a door inside the garage.
Advantages of Attached Garages
They are the most popular options for houses. They have several benefits, such as:
They are cheaper to build;
They satisfy homeowner association requirements;
They allow for the use of the house's heating and electrical systems;
They provide convenience, especially in inclement weather; and
They provide seamless access to interior living space.
Disadvantages of Attached Garages
They are difficult to expand;
They may negatively affect the exterior look and aesthetic appeal of your house;
It is not easy to fit an attached garage to a narrow lot;
They may need pricey building permits once they have been built; and
They can be a security risk as they are easy to break into, particularly with the use of an electric opener. If your garage is not properly secured, it can provide direct access to your home for criminals.
On the other hand, detached garages are not attached to the house, as the name implies. They could be beside the property, or they may be at a distance. They are usually larger and leave more room for creativity in building them because they have a stand-alone feature.
Advantages of Detached Garages
They are flexible both in location and size, and they provide freedom to maximise space;
They can be expanded without difficulty;
They are more secure than attached garages;
They may increase the value of your house; and
They provide an enhanced curb appeal.
Generally, detached garages are more spacious than attached ones. They can be wedged into corners or the sides of the home to avoid detracting from the size of the house. Also, they would not affect the exterior appearance or aesthetic appeal of the house that way.
Disadvantages of Detached Garages
As lovely as detached garages are, they are not without some downsides. These cons include:
They may take up too much yard space;
Some homeowners associations may disallow them;
They may require a separate source for utilities, which could be pretty expensive; and
They offer less-convenient access to the main house, especially in rough weather. For people with young children or those who lug around heavy loads, this might prove to be quite challenging.
We would not say one is better than the other. Attached and detached garages offer various benefits and have different downsides. Ultimately, it is up to you to decide which one is most suitable for your purposes.
Alternatives To Building A Garage
The cost of building a garage may be more than you expected. However, all hope is not lost. If you want to construct a garage because you need somewhere to park your car, you could consider installing a driveway. It is way less expensive than building a garage. If you need extra storage space, purchasing a storage unit or shed are other cheaper alternatives. Converting your loft could also give the extra space you desire.
In Conclusion
Building a garage is a huge investment, and it is essential to get it right. You may need to hire professional services and make some consultations. Since most garages are often subjected to a lot of wear and tear, we would advise that you seal the concrete. This would keep your garage looking brand-new for many years to come. You could seal the floor with a sealer or high-quality paint. When car fluids leak on the floor, or there is a stain, you would appreciate having a sealed floor. A sealed floor allows clean-ups to go smoothly and without difficulty. It might increase costs, but it is something worth it.
Even though it might seem a bit overwhelming, you will do just fine if you follow our tips!
---